Risks of Leaving Your Outdoor Faucets Exposed to Cold
The wintertime brings beautiful views and joy; however, it also comes with some hassles no one wants to deal with. This includes taking proper care of the entire exterior of your home. Many ignore a key part of their outdoors: the faucets! 
People forget about them and disregard the risks of leaving them unprotected during wintertime. This post will teach you some risks of forgetting about your exposed outdoor faucets. Keep on reading!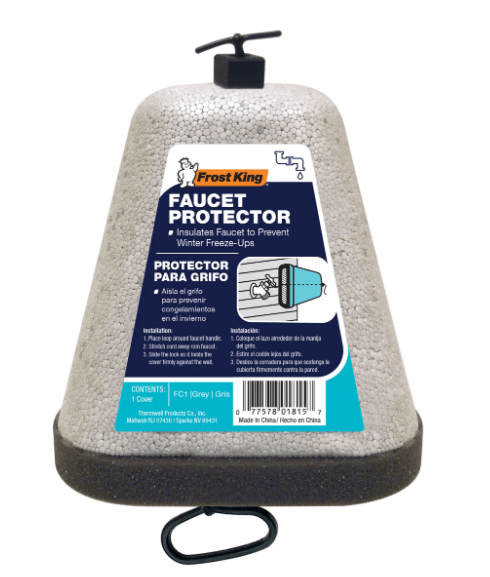 Risks Of Leaving Faucets Exposed To The Cold
Leaving your outdoor faucet exposed in the cold winter can pose several risks, including freezing and bursting pipes, increased water usage due to leaks, and potential damage to your home or property. 
Frozen Pipes
Leaving your faucets unprotected during winter can leave you vulnerable to frozen pipes. Freezing temperatures can cause cracked and burst pipes, which are not only a hassle but expensive to fix. 
Burst Pipes
When you leave your faucets unprotected, it can cause your pipes to burst. This not only puts the safety of your home at risk and causes damage to your plumbing systems, but it wastes a lot of water and energy. 
Protecting your pipes from freezing temperatures or other environmental stresses can save money on energy bills and keep your home safe from damage. The best way to protect them is with faucet covers for winter.
Types Of
Outdoor Faucet Protectors
If you are looking for an effective way to protect your outdoor faucet this winter, consider investing in an outdoor faucet cover or protector. These products can help ensure your faucet stays in good condition throughout the cold season. 
Hard Faucet Covers
A hard faucet cover is the best option if you want to protect your outdoor faucet from harsh winter weather. Made from durable materials like plastic or metal, these covers are designed to resist cracking and breakage in freezing temperatures. 
They are also easy to install, making them a simple but effective solution for protecting your outdoor faucets.
Soft Faucet Covers
A soft faucet cover may be the better option for you if you want to protect your outdoor faucet from freezing temperatures in a gentler way. Made from materials like foam or fabric, these covers are designed to insulate and prevent excessive heat loss around your outdoor faucet. 
They are also flexible and easy to remove and reinstall, making them a convenient choice for keeping your outdoor faucet safe and protected through the winter months.
Find The Products And Solutions For Your Projects
If you're looking for a "home improvement store near me", at Fix & Feed, we are dedicated to providing the best products and services for all your winterizing needs. Whether you are looking to protect your outdoor faucets from the harsh winter weather or need other essentials like faucet covers for winter, outdoor faucet protectors and a lot more. We have everything you need at affordable prices!
Our convenient locations in Sulphur Springs, Bonham, Commerce, and Quinlan are open every day of the week, making it easy to get all your winterizing projects done quickly and easily. So why wait? Visit Fix & Feed today and get all your outdoor faucet covers and other winterizing essentials at unbeatable prices. We can't wait to help you!