6 Easy Steps To Install Outdoor Faucet Covers
Installing outdoor faucet covers is important in preventing water damage to your home. Following the instructions carefully can help protect your investment and avoid costly repairs down the road.
Outdoor faucets are exposed to the elements all year round, making them more susceptible to freezing and bursting during winter. In this blog post, we'll teach you how to install outdoor faucet covers properly. Let's dive in!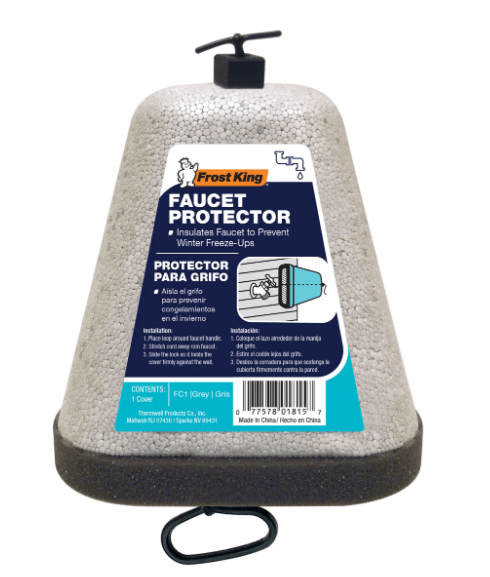 Instructions To Follow For Installing Outdoor
Faucet Protectors
Here are some easy steps you can follow to install an outdoor faucet protector:
Remove any hose or accessories attached to your faucet.

Make sure there are no repairs required; if the faucet needs repairing, it must be performed before putting the protector on.

Drain the water out of the pipes and faucet.

Find the loop inside the cover and put it around the faucet, but NOT the part where it turns!

Put the cover over the faucet and pull the string to make it tight. And that's it! You've put the cover all by yourself!

To remove the cover, push its button and loosen the string.
Polystyrene Faucet Cover
Polystyrene faucet covers, also known as protective caps, are a simple way to protect your faucets from low temperatures. These small caps fit securely over the top of a standard faucet. They can be easily removed and reinstalled at any time. 
The idea behind these protective caps is simple: by covering your faucets, you can protect them from damage without having to replace expensive fixtures or materials. 
Nylon Soft Cover
These are leak-proof covers that protect your outdoor faucets from freezing temperatures in the winter. They are made from a soft, durable material that is easy to install and remove when needed. Slip one over your outdoor faucet to use them, and rest assured that it will stay protected all winter long.
If you live in a climate with harsh winters like some parts of Texas, then nylon soft outdoor faucet covers are an essential investment to keep your faucets working properly year-round. 
Complete And Reliable
Hardware Store In Texas
Looking for the best outdoor faucet covers in Texas? Look no further than Fix & Feed, a trusted hardware store with locations throughout the state, including Sulphur Springs, Bonham, Commerce, and Quinlan. 
Our products are high-quality and affordable, and we're open 7 days a week to cater to your needs. Whether you're looking for polystyrene or soft nylon faucet covers, we have everything you need to protect your faucets and keep them in great condition. So why wait? Visit us today and see why so many people love Fix & Feed!