Antifreeze: Premixed Or Straight?
Are you unsure of which antifreeze solution to use for your car? Premixed or straight? It is essential to familiarize yourself with these types of antifreeze to make the best decision for your vehicle. An antifreeze for your car is a solution that helps regulate engine temperatures and to prevent corrosion. 
Antifreeze is mixed in equal parts with water to make a solution that provides freezing and boilover protection compared to straight water. Antifreeze is available in premixed or straight form. Premixed antifreeze contains a 50/50 ratio of water and antifreeze. Straight antifreeze does not have any water. Both types of antifreeze can help protect your vehicle from overheating and corrosion. In this blog, you will learn the advantages of using the 50/50 formula (premixed). Read on!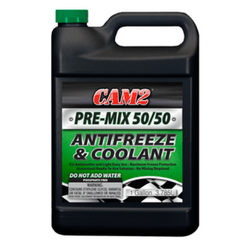 Advantages Of Premixed Antifreeze
An antifreeze for your car offers many advantages that are beneficial for your vehicle. Here are some benefits of the 50/50 formula:
1. Increased engine protection
The 50/50 mixture decreases the risk of corrosion and damaging our car's cooling system. It can also prevent overheating and boiling over, which is dangerous for your vehicle.
2. Improved lifespan
Premixed antifreeze provides a protective layer between metal components in your car's engine, which helps prolong its lifespan.
3. Better performance
Using premixed antifreeze can regulate your engine. Regulating the engine temperatures increases your car's performance and fuel economy.
4. Easier maintenance
Premixed antifreeze is already diluted at the perfect ratio of water and antifreeze. It reduces the time spent measuring, mixing, and checking temperatures. This can save you valuable time in taking care of your car's maintenance needs.
5. Cost-effective solution
Premixed antifreeze can be more cost-effective than buying both water and antifreeze separately. The premixed solution eliminates the need to purchase two bottles of chemicals, which helps you save money.
Protect Your Car By Buying Fix & Feed Antifreeze
Are you looking for a hardware store in Texas? We have the solution for you! Fix & Feed has a wide range of antifreeze products for residential and commercial use. We offer the best 50/50 premixed antifreeze available in the market today. Our team can help you find the right product that fits your needs, budget, and car model. Our locations include Commerce, Bonham, Quinlan, and Sulphur Springs. 
Visit one of our stores to learn more about our antifreeze solution and how it can help protect your car! Fix & Feed, your hardware store in Texas.