Heavy Duty Water Hoses: Are They Worth It for Construction Jobs?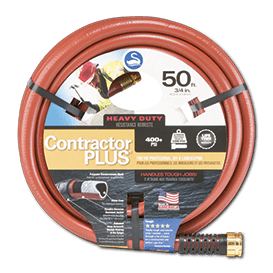 Do you work in construction but don't have a heavy-duty water hose? It's time for you to get one right away! A good hose can withstand high pressure and constant use of construction work.
Whether you're just starting in the construction industry or looking for an upgrade in your supplies, a heavy-duty water hose is a great addition to your equipment. In this blog, we'll explain the benefits of purchasing this tool and how it can make every job easier.
Reasons Why You Should Invest In A Heavy-Duty Water Hose 
They are durable:
Heavy-duty hoses are designed with rubber. This makes them more flexible and less likely to kink than hoses made with other materials. They can also handle higher water pressure without bursting. Some heavy-duty hoses are reinforced with polyester or nylon fabric to make them even more durable.
They have a higher water flow:
The diameter of a heavy-duty hose is usually between five and eight inches. This allows for a much higher water flow than a standard garden hose. This is important when filling up a pool or watering large land areas.
They're More Manageable:
As we mentioned before, Heavy duty hoses are made with rubber,  which means they are heavier than others. This gives you more control over the hose when you're using it. You won't have to worry about the hose getting tangled or out of control. 
They're Easy To Store:
Heavy duty hoses are usually coiled when they're not in use. This makes them easy to store and keeps them from taking up much space. You can also find heavy-duty hoses with storage racks that make it even easier to keep your hose packed.
They're A Cost Saving Solution:
Investing in a heavy-duty hose is a cost-effective solution for your construction business. These hoses are built to last and will save you money in the long run. You won't have to replace your hose as often, and you'll be able to use it for various projects.
Purchase Your Heavy-Duty Hose At Fix & Feed Hardware Store
Now that you know the benefits of owning a heavy-duty water hose, it's time to purchase one. Find the best deal on a quality hose at Fix & Feed Hardware Store! We have the Swan 3/4 inch x 50 ft Contractor Hose. This hose can handle even the toughest jobs with its polyester reinforcement mesh and patented hose armor at the fixture. 
At Fix & Feed, we support constructors, DIYers, and project enthusiasts by providing them with top-quality tools to complete all their projects and ideas. If you want more information about us and our product line, give us a call,  send us a message or visit one of our stores in Texas.