How to Use Lava Rocks in Your Garden
Lava rocks are a fantastic addition to anyone's home or business. Not only do they help with aesthetics and ambiance, but their unique properties make them incredibly useful for both residential and commercial use.
Lava rocks for landscaping can enhance the landscape of any property, provide a unique look, offer savings on water and maintenance costs. In this blog post, we'll discuss all the amazing things lava rocks have to offer and some tips on how best to use them in your landscaping design. So keep reading to learn more about these great landscaping options.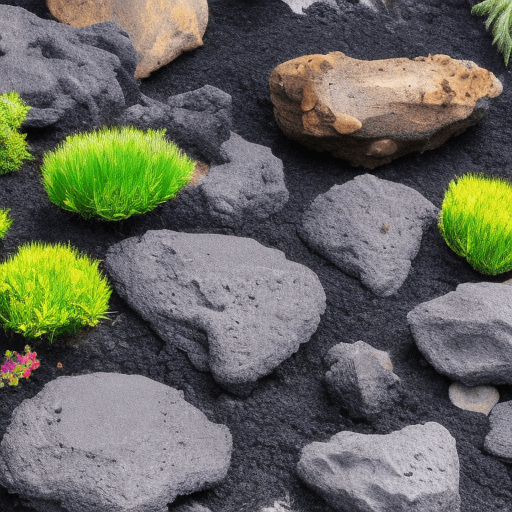 What Are
Lava Rocks for Landscaping
?
Volcanic rocks are formed by the cooling of magma, which is molten rock that originates deep within the Earth's crust. As this magma cools and solidifies, it forms a porous and lightweight rock of minerals such as feldspars, quartz, and mica. Lava rock bulk has a dark charcoal color and is often used in landscaping to provide a unique look.
Different Landscape Projects With Lava Rocks
Enhancing your outdoor space is a breeze with volcanic rocks! From brightening garden borders and planters to create winding pathways and walkways, this beautiful stone allows you to explore multiple landscaping opportunities. Some of the most popular ways people use it include:
Pathways – To create a beautiful and natural pathway, select solid rocks that support you and your weight. Then place the stones along the desired path. To guarantee proper drainage, consider incorporating moss or soil with the lava rock to prevent roots from becoming stuck.
Stone Borders – Adding a touch of color to gardens and walkways has never been easier with lava rocks! All you have to do is spread the pieces around your pool, garden, patio, or any other area looking for a definition. Lava rocks create a captivating natural border that is also incredibly resilient – making them the perfect choice for outdoor decorating.
Planters – If you're looking for a planter that speaks volumes with its natural aesthetic, then lava rocks are the answer. Whether you go with small pebbles or larger pieces of rock – it's up to you! Either way, drainage won't be an issue since this material's porous nature helps facilitate water flow throughout your garden.
Flower beds – Lava rock bulks prevent weeds and erosion while lasting longer than traditional mulch before requiring replacement. Its heat absorption capabilities during the day and temperature regulating ability at night make it ideal for shrubs, trees, or various plants – providing your yard with a visually appealing atmosphere that looks anything but empty.
Firepits– Adding a firepit to your backyard will transform it into a warm and inviting space, allowing you to enjoy the outdoors even in cooler weather. Lava rocks work perfectly in this application due to their higher heat retention capacity while providing optimal drainage and evenly distributed warmth.
We Will Rock You at Fix & Feed Hardware Store!
Are you ready to rock it with your next landscaping project? Shop for our bags of lava rocks in any of our 4 locations in Texas. You can find us in Commerce, Bonham, Quinlan, and Sulphur Springs!
Whether you have a large or small project, trust Fix & Feed to provide you with the highest quality lava rocks. Visit us today and check out our selection of landscaping materials. We'll be ready to help you rock your outdoor space.