Lawn Tractors Or Lawn Mower? Find The Answer Here
Do you battle every day to keep your lawn looking great? A lawn tractor is a great investment for any gardener or homeowner. It makes mowing your lawn easier and can also be used for other tasks like hauling materials around your property.
Are you ready to give your lawn an extreme makeover? Investing in a lawn tractor is the smartest choice. In this blog post, we'll discuss the different features and benefits of buying a lawn tractor.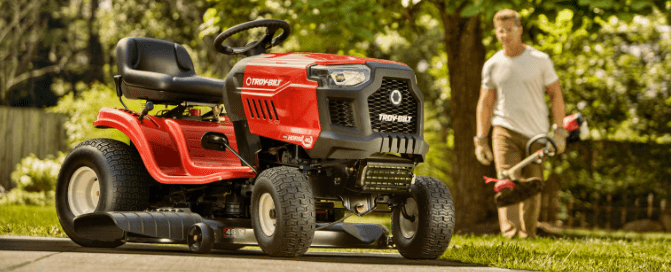 Differences Between A Lawn Mower and A Lawn Tractor
The main difference between a lawn mower and a lawn tractor is size:
Lawn mowers are small and light enough to be pushed by one person, while lawn tractors need to be driven.

Lawn mowers also have smaller engines, which means they can't handle as much weight or power as lawn tractors.

Lawn mowers have a cutting deck attached to the underside of the mower, while lawn tractors have a cutting deck located in front of the tractor. This difference is important because it means lawn tractors can cover more ground in less time.
Advantages Of Choosing A Lawn Tractor
Now that we've gone over the main differences between lawn mowers and lawn tractors let's discuss some of the advantages of choosing a lawn tractor.
Lawn Tractors Can Save You Time
If you have a large lawn, it can take hours to mow it with a push mower. A lawn tractor can help you get the job done in a fraction of the time.
Lawn Tractors Can Save You Energy
Pushing a lawn mower around for an hour can be exhausting. Driving a lawn tractor is much easier on your body, and you won't end up as sweaty or tired.
Lawn Tractors Can Do More Than Just Mow Your Lawn
Most lawn tractors come with attachments that can be used for tasks like hauling materials, plowing snow, or even tilling your garden.
More Precise Cuts
Lawn tractors offer a much more precise cut than lawn mowers. This is because the cutting deck on a lawn tractor is located in front of the tractor rather than underneath it. This means that you can see where you're going and ensure that your cuts are straight.
Visit The Most Complete Home Improvement Store
We are proud to offer lawn tractors at Fix & Feed. With its amazing power and precision your lawn will look stunning! If you're in the market for a new lawn tractor, be sure to check availability. 
At our home improvement store, we have knowledgeable staff on hand who can answer any questions you may have about these tractors or any of our other products. Contact us today to learn more!