The Ultimate Beginners Guide To Miter Saws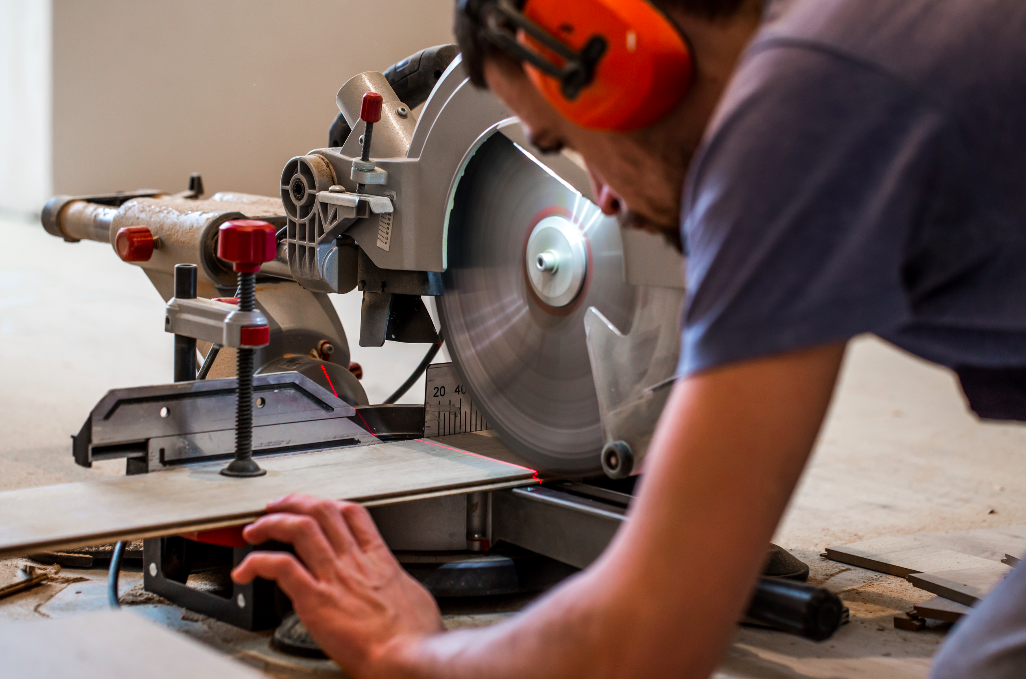 Miter saws are a carpenter's best friend – they make quick, accurate cuts and are perfect for home projects. But with so many different models and features available, choosing the right one can be tricky. Nothing to worry about, fellow carpenters!
In this blog post, we'll discuss everything you need to know about miter saws, including the different types available and how to use them safely. So whether you're just starting in carpentry or you're looking to upgrade your current saw, read on for all the information you need.
A Must-Have Tool For Every Carpenter
If you're beginning in the world of carpentry, you must know the many saws available. From table saw to chop saw, they all have their unique settings. So, what makes the miter saw so special among all the others?
Accurate angles:

The accuracy of the miter or angled cuts depends on how you set them. They will be exact and consistent for as many cuts as you like once you've established any sort of miter or angled cuts. Most saws have positive stops to ensure that 45-degree miter cuts are even better.

Perfect square end cuts:

When you make a perfect 90-degree cut in two directions with a miter saw and securely support your workpiece on both sides, you can be confident that the cut will be exact.

Stays inside the line:

It's simple to cut precisely on the cutting line since you may crop thin slivers of material until you're on it.

Can deal with thick lumber:

A miter saw can cut through a 4×4 post in one pass, which a 7-1/4″ circular saw (the most common size) isn't capable of doing.

Extremely versatile:

A power miter saw can chop not only through wood but other materials such as aluminum shower door tracks, suspended ceiling gridwork, and other aluminum products with a carbide blade. Plumbing pipes made of plastic are also on the list.
Smart Tips For Miter Saw Shopping
So many choices seem to be "the one," but how can you be 100% sure of this? Well, these are some features you should look out for while purchasing your new miter saw:
The most pocket-friendly saw for your money is

found in ten-inch models. They can cut 90-degree 4x4s as well as 45-degree 2x6s and 2x4s.

Crown molding cuts

that are difficult to make with a regular miter saw will be simple with a compound miter saw. The extra cost of a compound miter saw is 25 to 30% more than a basic miter saw.

Make sure to lift the saw.

You'll be carrying it around to your shop or workplace, so make sure you can lift it without hurting yourself.

Check for a dust bag

included within its accessories to avoid getting damaged while you store it.

When you're cutting, check

to see if the blade guard is easy to operate and not obstruct your view. Some guards are superior to others. If you don't like how it functions, try another saw.

Purchase a carbide blade.

Most saws come with a steel blade suitable for cutting framing wood but not molding. A 50- to 80-tooth carbide blade will produce smooth trim cuts.
Easy To Use Right Out Of The Box!
Even with basic carpentry knowledge, the miter saw is so simple to use that you'd be able to use it on any of your projects.
Step 1- Set It Up
Install the miter saw in a space with plenty of room to pass an eight-foot longboard without knocking anything down. A few boards on sawhorses might be enough, or you may construct a bespoke miter saw station.
Make sure the miter saw is firmly affixed to the work surface using clamps or screws since the last thing you want is for it to shift while you're cutting.
Step 2- Check It
Some miter saws aren't perfect right out of the box. Rough handling or incorrect factory settings might cause the blade or fence to become misaligned.
Your circular saw's blade should be parallel to the table to obtain the best cutting results. Unplug the saw and raise the blade guard while you're looking at it. Lower the blade and set a square next to it. There shouldn't be any light or space between the blade and the square.
Step 3: Cut, cut, cut!
With a tape measure, determine how long your project's board will be. Using a pencil and a square, draw a line on the board where you want to cut. 
With the fence against the back edge of the board, set it on the miter saw with the waste side touching the line. Lower the blade and carefully align it with the teeth to barely touch the waste side of the line.
Set your safety glasses and ear protection on. Before cutting, let the miter saw come up to maximum speed and then make the cut.
After you've cut through the material, hold the board in place, or clamp it down. The majority of miter saws come with a hold-down clamp that you can use. When the blade is spinning, keep your hands more than 6 inches away from it!
After cutting completely through the board, release the trigger and hold down the blade until it comes to a complete stop.
Find All You Need In Our Hardware Stores in Texas
Joining the world of carpentry is amusing, and an easier way of completing your carpentry projects flawlessly is with the Dewalt – Miter Saw/DWS715, which is available at all Fix & Feed stores in Texas.
Fix & Feed is a well-assorted hardware store perfect for carpentry lovers, regardless of their expertise. We enjoy seeing how your projects come to life using only our store's best quality tools and materials.