The Ultimate Framing Nailer Guide For Beginners
A contractor is only as good as their tools. A framing nailer is a must-have if you're looking to speed up your construction projects and increase efficiency. Compared to traditional hammering, a framing nailer can drive nails quickly and consistently, saving you time and energy.
In this blog post, we'll take a closer look at how a framing nailer works and the benefits of using it on your next construction project. So read on to learn more before visiting the hardware store.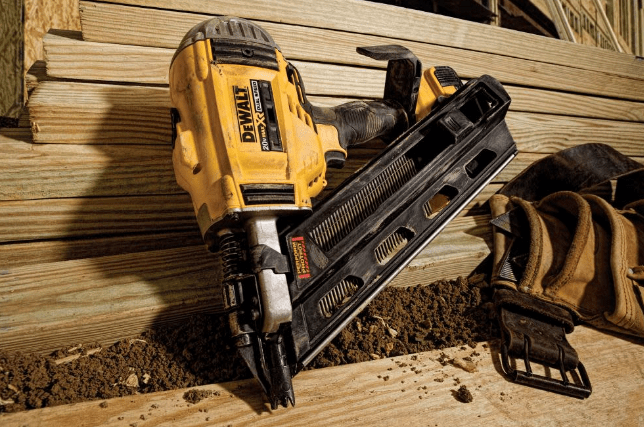 What Is A Framing Nailer?
A framing nailer is a specialized type of pneumatic nail gun designed for construction projects. It is commonly used to attach wood boards or planks. Still, it can also be used for other applications, such as installing insulation or roofing materials.
How Does It Work?
A framing nailer uses compressed air to drive nails into wood or other materials. It has a chamber that holds a stack of nails, and as you pull the trigger, a nail is driven out of the chamber and into the material you're working on.
What Are The Benefits?
There are many benefits of using a framing nailer, including:
Increased speed and efficiency: A framing nailer can drive nails much faster than you could with a hammer. This means you can complete construction projects quicker and move on to the next job sooner.

Reduced fatigue: Because you don't have to swing a hammer repeatedly, using a framing nailer will save you from arm and shoulder fatigue.

Greater accuracy: With a framing nailer, you can be sure that nails are driven in straight and at the same depth every time. This is especially important when working on projects that require precision, such as installing trim or molding.
How To Choose The Right Framing Nailer?
When choosing a framing nailer, there are a few factors you need to consider, such as:
The size of the nails:

Framing nailers

use different nails, so choose one compatible with the nails you'll be using.

The weight and balance: A heavier framing nailer may be more difficult to maneuver, so consider how much the tool weighs and how well-balanced it is before making your purchase.

The style: Framing nailers come in two styles: stick and coil. Stick nailers hold a smaller number of nails. They are typically used for lighter construction projects. At the same time, coil nailers can hold more nails and are better suited for larger jobs.

Framing nailers range from around $100 to $300, so set a budget before you start shopping.
At Fix & Feed
Hardware Store
, We Make Your Tasks Easier!
Now that you know more about framing nailers, pick one up at Fix & Feed hardware store before your next construction project! We offer you the Dewalt Lithium-Ion Framing Nailer Kit – 20V, perfect for any construction project. This engine is designed for higher power and drive quality than previous Dewalt tools.
Our team of experts is always available to answer any questions you may have about using our products.