Transform Your Garden with White Marble Accents
Would you like to add elegance and beauty to your home or business? White marble can be perfect for adding texture, color, and artistic features to any yard. With its uniquely shining finish, white marble is aesthetically pleasing and stands out in any residential or commercial landscaping project. 
If you're planning an elaborate landscape design with boulders, terraces, and pathways made from white stone materials or maybe smaller projects like planters filled with polished marble chips, the options are endless with white gravel. In this blog post, we'll explore how using white marble in landscaping can create stunning visual displays while increasing your property value.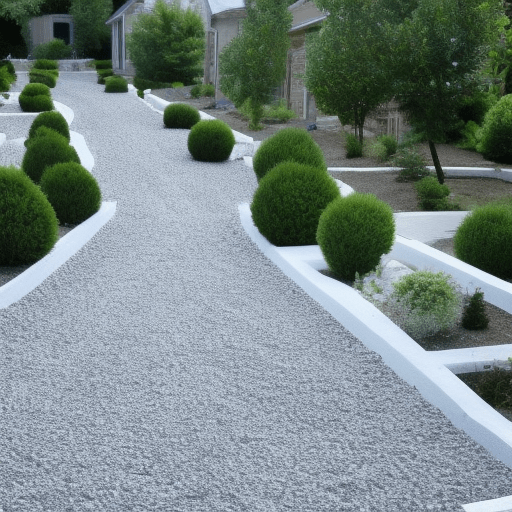 What Is White Gravel?
White gravel is a type of crushed stone that carries light shades of white, gray, and pink with it. It's made up of igneous rock composed mainly of feldspars and quartz, making it one of the most abundant minerals in nature. White marble comes in sizes ranging from small chips to large boulders depending on the project you're working on.
Benefits of
White Marble for Landscaping
White marble chips add an element of class to outdoor landscaping projects and are a popular choice for yards, gardens, or courtyards that need a touch of elegance. Not only does it look great, but it offers several practical benefits as well.
Aesthetic appeal: A stunning addition to any lawn or garden, white gravel presents a crisp and refined aesthetic that will make others envy your garden.

Practicality: White gravel is very doesn't require much care or maintenance

Durability: White gravel is a practical and resilient material, not fading or chipping despite its exposure to even the harshest weather. Its durability ensures it stands strong under any amount of wear and tear.

Affordability: White marble is a wallet-friendly option, and its versatility makes it perfect for any landscaping project.

Versatility: Incorporate white gravel into your landscaping for multiple uses, such as a ground cover, mulch, or flower beds. Its versatility adds color and texture to any outdoor space.
Get The Best Landscaping Products At A Great Price Only At Fix & Feed
If you're looking to buy white marble for your next landscaping project, look no further than Fix & Feed! We carry high-quality products at the most competitive prices around. With our wide selection of stones and gravels in various sizes, we have something for any project. So, visit our store and let us help you make your outdoor dream space come true. 
Whether you're looking for a unique way to dress up your garden or add some sophistication to your home, white marble is the perfect choice for adding texture, color, and class to any landscaping project. Visit one of our 4 stores today and purchase all you need with the help of our kind and knowledgeable staff.