Untangling 5 Benefits Of Owning A Hose Reel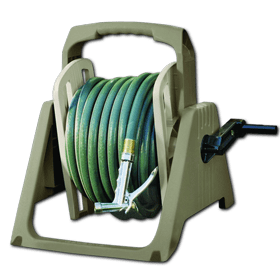 It's convenient to have all your hoses organized and at arm's reach. This gives you peace of mind knowing you're prepared for any gardening emergency. Whatever the reason, hose reels are a great addition to any home garden. 
This blog post will discuss the different benefits you'll obtain from purchasing a hose reel. If you have doubts about adding one to your shopping cart, you'll surely be certain about your decision after reading this post.
Untangling The Benefits
Will increase the hose life and performance:

 When you have a hose reel, your hose is always neatly coiled when not in use. This means that it's less likely to get tangled, kinked, or damaged when not in use. All of which would decrease the lifespan and performance of your hose.

Saves time and energy:

Have you ever spent hours untangling a hose sitting in the sun all day? It's not a pleasant experience. Having a hose reel can avoid this issue altogether and save yourself time and energy.

Hose reels are versatile:

A good quality hose reel will come with different attachments for different garden tasks. For example, some hose reels come with a pressure washer attachment, which can power wash your patio or decking.

Keeps your garden tidy:

A hose reel will help to keep your garden tidy as all the hoses will be stored in one place. This is especially useful if you have a small garden as it will help maximize your space.

They're affordable:

Hose reels are a great investment for your garden as they're not too expensive but offer many benefits. You can find good-quality hose reels for under $100.
A Go-To
Hardware Store
For Homeowners
Forget about untangling your hose every time you need to water your yard. If you're looking for a hose reel to add to your next purchase, at Fix & Feed, we've got a Plastic Hose Reel that can hold a 5/8 x 100 ft. hose. You are more than welcome to visit one of our hardware stores and check it out! 
At Fix & Feed, we ensure you with products that will make your home owning life easier. We care to boost all of our customers' projects, so our staff is more than happy to assist you in buying only the best products for your yard.