Do Your Knife a Favor and Invest In a Knife Sharpener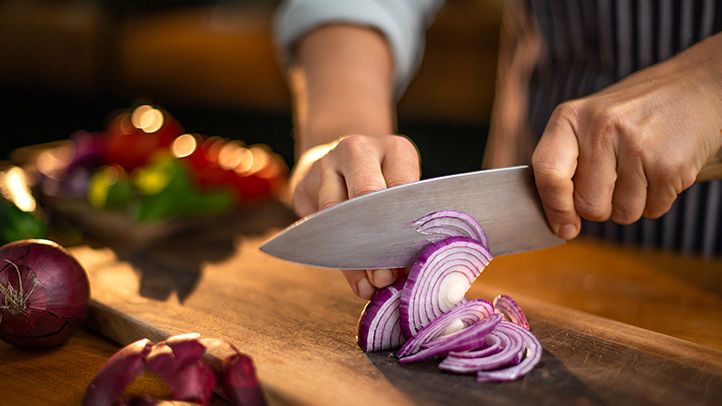 A dull knife doesn't just make cutting less efficient; it also becomes a safety hazard due to the additional force required when cutting, resulting in slipping and injury. The quality of your food might also take a hit as the quality of your cut determines the evenness of cooking and preciseness. 
With a well-maintained tool, you'll be able to be a master in the kitchen. However, it's important you know what tool you need to keep your knife in the best shape. Keep reading to learn about knife sharpeners and our favorite pick available for purchase at your local Fix & Feed store. 
Interesting Benefits of Using a Shaper Knife 
There is no doubt knives are a key staple in any kitchen; without a good knife, your food quality ends up suffering, and not to mention, makes for a frustrating experience. Here are a few benefits of having a sharpened knife on hand in your kitchen. 
It's healthier:

If you're using a dull knife when cutting your greens and herbs, you'll come to notice patches of green coloring on both the knife and the cutting board. This is a waste of nutrients, a dull knife ends up damaging the food. The sharper your knife, the more nutrients are retained in the food that you're chopping up.

You cry less:

Ever ball your eyes out when cutting onions? A sharp knife can cut through an onion without causing as much cell breakage, minimizing the tear-causing gas released when you chop it up. 


Which Knife Sharpener Do I Pick? 
Having a sharp knife has many benefits. However, the knife sharpener you pick also has an impact on the quality of your knife. When it comes to picking a knife sharpener, you'll want to ensure you choose one of high quality and will keep your knife in good shape. Our top pick is the Accusharp Knife & Tool Sharpener. 
This knife sharpener is able to quickly sharpen, restore, repair, and hone serrated blades. It's the perfect tool for chef's knives, paring knives, serrated knives, and just about anything else. You can get a sharpened blade within ten seconds of sharpening, and it is created from diamond-honed tungsten carbide, which is one of the best-known materials. 
Additionally, it features a unique, ergonomic handle that fits into the shape of your hand perfectly to allow for a comfortable grip while sharpening. 


Keep Your Knives In Shape With Fix & Feed 
While a knife is a staple in the kitchen, a knife sharpener should be as well. At Fix & Feed, we are proud to offer our customers high-quality products such as the Accusharp Knife & Tool Sharpener. As a home improvement store, you can count on us to provide you with just about anything and everything you need.