Type of Things That Can Be Sharpened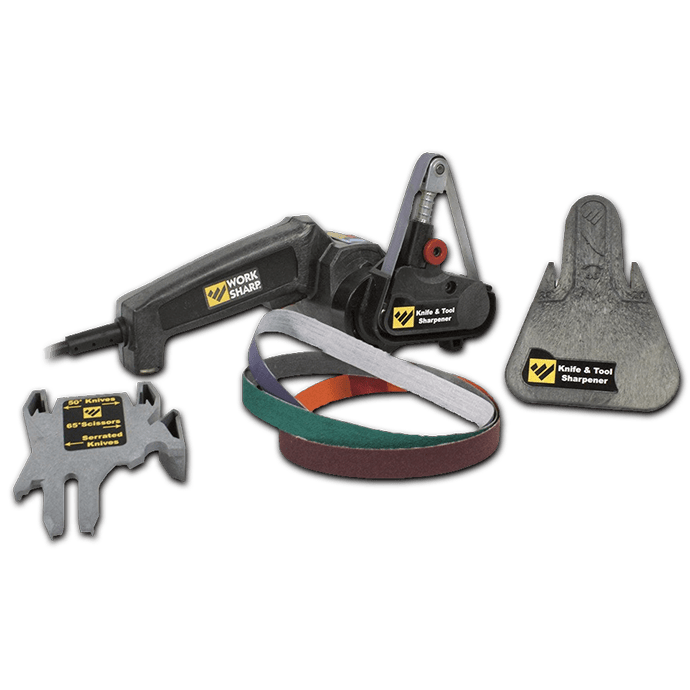 Knives used often in business settings must always be sharp; a blunt or dull knife is harmful since it takes more pressure and is more likely to slide and cause an injury. The most crucial reason to maintain all blades sharp is for this reason alone.
Sharpening a knife regularly also implies that the contractor using it will accomplish a better, faster, and easier job, resulting in increased production. It will also allow that individual to work more cleanly and precisely, resulting in less waste.
Never use a chipped or broken knife; it's both hazardous and a possible breeding ground for bacteria and germs of all kinds.
Work Sharp Knife & Tool Sharpener
The Work Sharp Knife & Tool Sharpener is the world's first knife sharpener to sharpen any knife you possess. The sharpener tool can sharpen straight-bladed knives, curved knives, tanto blades, filet knives, serrated knives, gut hooks, and almost any other type of knife blade.
Precision angle sharpening guides are used in the Knife & Tool Sharpener to guarantee that you obtain the right angle every time. A 50° guide for hunting and outdoor knives is supplied, as well as a 40° guide for thinner blades and kitchen knives.
Professional knife makers use flexible belts to maintain a razor-sharp edge on their blades. Now, any person can have the same technology at home. You may have used various sharpening tools in the past; yet, no knife sharpener has ever been able to sharpen such a wide range of knives so fast and easily.
What Other Tools Can Be Sharpened?
Other popular instruments sharpened by the Work Sharp Knife & Tool Sharpener include scissors, axes, hatchets, mower blades, garden shears, shovels, and almost any tool with a cutting edge. The Original Knife & Tool Sharpener's flexibility makes it an important tool for keeping all of your blades razor-sharp.
Purchase This Top Rated Sharpener at Fix & Feed
In Texas, you can find The Original Work Sharp Knife & Tool Sharpener in Fix & Feed. You can also find any other tools and equipment you might need on a daily basis or for special projects. Visit our store to find out what is right for you.