6 Types Of Ladders & Their Purposes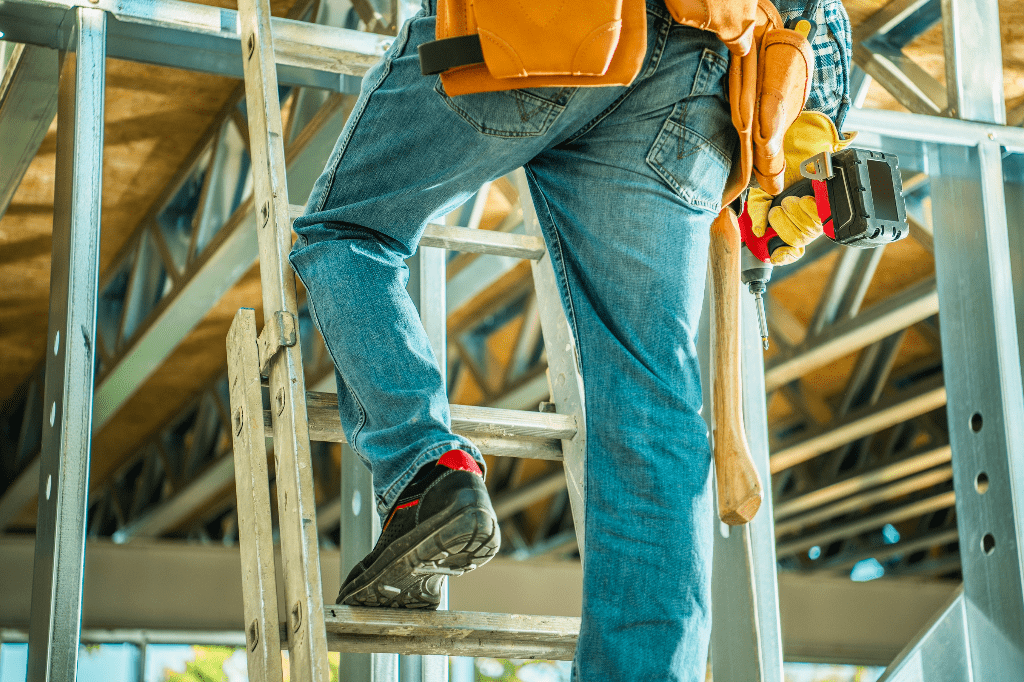 Whether you're painting your house or cleaning your gutters, choosing the correct ladder is important. When choosing a ladder, height is not the only important factor. You have to check for stability, durability, safety, and convenience. 
As a contractor, you certainly will need strong and stable ladders; however, there are so many types and sizes that choosing the correct one might get overwhelming. In this blog, we have listed the different types of ladders and their functions to make your choice a little bit easier.
Reach Your Goals With These 6 Types Of Ladders
Here are a few common types of ladders:
Stepladders
The stepladder is the most common type of ladder. It has an upside-down V-shaped self-supporting structure, so you don't have to support it against a wall or another structure to use it. They may also be folded for convenient carrying.
Werner's 8ft fiberglass stepladder's practical design allows you to set it up almost anywhere with just a little bit of flat ground. It provides up to 300 lbs of capacity and 12ft of height and internal spreaders for easy opening and closing.
This adaptable feature makes it one of the most versatile multi-use ladders available. You can use it for painting, light bulb replacement, decorating, construction, etc.
Straight Ladders
Straight ladders are like a stepladder but cut in half. Because they don't have support, they must have some form of anchor. These are completely portable but do not have hinges to decrease the space they take up. 
Though straight ladders require a sturdy wall to lean against, their lack of a second side allows you to approach that wall more than with a stepladder. For this reason, straight ladders work well for roofing, construction, and exterior maintenance projects.
Platform Ladders
A platform ladder is a self-supporting ladder with a platform at the top. The top of the ladder's platform is often enclosed by rails on three sides, with the side nearest to the rungs exposed. You may stand at the highest point of a platform ladder, which you can't do with other types of ladders.
A platform ladder, like a stepladder, has two sides that you may use to set it up anywhere there is level ground. These ladders are excellent for tasks that need you to stand on a ladder securely for lengthy periods, such as landscaping, painting, displaying items, building, and more.
Extension Ladders
The main benefit of an extension ladder is its adjustable length. Extension ladders use two or three sections of guided tracks to extend the ladder as needed. Many ladders include rope and pulley systems that connect the adjustable segments for an easier extension.
Extension ladders may be adjusted for a wide range of purposes, from extending up to great heights and having close access to the project point to various maintenance tasks. Roofing, building, and other similar operations are examples of these projects.
Trestle Ladders
Trestle ladders, AKA double front ladders, are a ladder with two surfaces and can support two people at once. They're self-supporting and portable, making them ideal to use in any location where there is level ground.
Because trestle ladders can support two people at once, they may be ideal for projects where you will be working along with other people. To point out a few: painting, multi-person installation or decoration, volunteer service initiatives, etc.
Multi-Way Ladders
Multi-way ladders frequently combine several ladder types into a single, convertible ladder. These ladders are generally two-sided self-supporting structures used as a stepladder, extension ladder, trestle ladder, and more.
If you do a lot of tasks with varying ladder demands, a multi-way ladder may be the most practical and cost-effective option for you. Multi-way ladders are sometimes required in various jobs, such as house renovations, tiny company maintenance issues, various interior or outside cleaning operations.
The Sky's The Limit With Fix & Feed
At Fix & Feed, we don't want anything to limit you from completing your projects, which is why at our hardware stores, we offer you a complete variety of ladders to fit any job. Werner's 8ft fiberglass step ladder is our most popular one, designed with a fiberglass frame and aluminum steps that are 100% safe around electricity.
This OSHA-certified product provides you with non-slip steps for more stability and comfort. Plus, a HolsterTop with tool lasso sockets holds drills and other tools while working. Very convenient!
Don't miss out on the best products and brands for your DIY projects or work! Visit one of our hardware stores.