Watering & Irrigation: All About Valve Boxes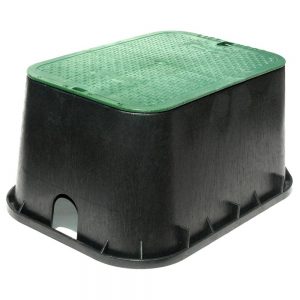 Nowadays, it has become trendy to use an irrigation system for garden maintenance. The main reason homeowners and gardeners have started to use this technique is that it allows them to control the amount of water they apply to plants at necessary intervals. Likewise, valve boxes have gained popularity due to their ability to provide a safe environment for irrigation. 
Features Of A Valve Box 
A valve box has been designed to ensure a safe environment during the process of an irrigation system. They are an essential part of the entire process. Valve boxes usually come with a lead and bolts. A great feature of these boxes is that they all have big footprints, making them less likely to drill themselves into the ground. 
Additionally, every valve box has been designed to have a dual purpose, which allows them to be stacked on top of each other if needed. Valve boxes have eight knockouts on all sides to prevent dirt from getting inside. 
Another smart feature is that they come in different colors and sizes. For instance, if the valve box is lilac, it means that it has recycled water. 
Why Are Valve Box Useful?
Using irrigation valve boxes has its advantages. To begin with, they have the potential to protect themselves from vandalism, its elements from damages resulting from mowers or string trimmers. Installing an irrigation system is an expensive investment for homeowners. Therefore, most of them prefer to invest in a valve box to avoid having damaged elements afterward. 
The most popular valve box in the market today is the underground due to its simplicity and unique technology. Underground valve boxes are used more often for residential purposes. The Irrigation valve box that you'll find in our store comes with a cover to protect from grass and dirt and it is made of durable plastic with UV inhibitors to prevent fading or cracking.
Installment Process
When installing a valve box, it should look like this. First, place the valve box in the gravel with the lid facing up. Ensure it's level and pile up the excavated soil to make a slope and avoid water from entering the box when it rains. 
Get Your Valve Box Today
Acquire your valve box today for the best possible price at Fix & Feed. Start protecting your irrigation system from damage and make it last a long time. Fix & Feed is located in four different areas across Texas. Visit your nearest store today!