Gash, Slash & Slice With These 6 Types Of Utility Knife Blades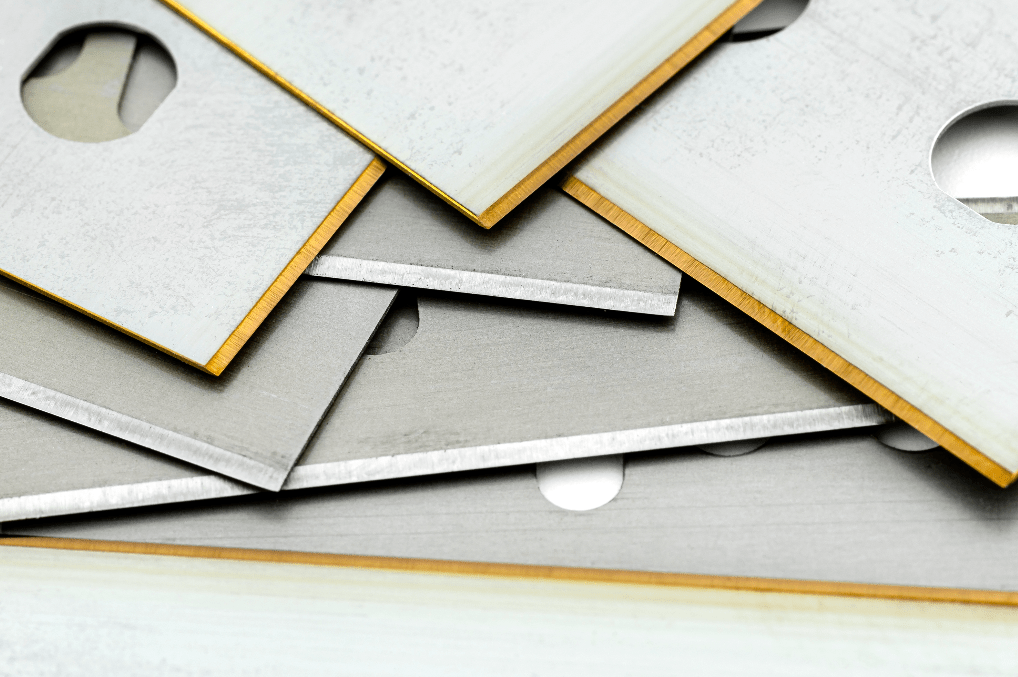 When you need to cut something, you immediately think about scissors; however, scissors might not be the best choice when the cut you have to do has a specific shape or angle. This is when utility knife blades make the job easier and faster!
There are several different types of utility knife blades. From the standard straight edge, blade to hook blades. In this blog, we'll discuss the different types of utility knife blades and their purpose for choosing the perfect one for your project.
Chop, Chop! Take A Look At These Types Of Utility Blades
There are 6 different types of utility knife blades. Let's take a look at each one.
Hook Blades
Hook blades are useful for cutting thick and heavy-use materials, such as asphalt shingles. These blades are commonly found on roofers' knives to trim the edge off shingles. Hook blades may also be used to cut carpet and linoleum.
Scalloped Edges Blade
Scalloped blade knives are excellent for cutting various products such as fruits and vegetables because they offer a clean, smooth cut. However, outside the kitchen, they are used to cut styrofoam insulation because they minimize the mess, and you'll obtain a neat result.
Serrated Edge Blades
Serrated edge blades have a similar edge to scalloped edge blades and are often used in a sawing motion. The rougher edge provides a safer blade shape and is an excellent choice for difficult materials. A sawing action with the serrated edge aids in the development of friction and momentum, making the cutting process a whole lot easier.
Pointed Tip Blades
For most people, the closest thing to a standard utility blade is a pair of utility knife blades with pointed tips. They're ideal for materials that require more effort to pierce than they do to cut, such as textiles, flexible plastics, and drywall.
Rounded Tip Blades
Rounded tip blades are safer than pointed tip blades since they eliminate the risk of piercing objects inadvertently and puncturing them. Although rounded tips are difficult to use on materials that must first be pierced, such as foam or cardboard, they're a great choice for softer materials like cork.
Snap-Off Blades
Utility knife blades are often supplied with snap-off blades. These blades are made as a single long, robust blade that may be expanded to cut through fiberglass insulation. You may also use this knife for trimming, as the serrated edge allows you to make clean cuts with one continuous stroke. 
The main benefit is that the numerous seams on these blades allow you to snap off one section at a time to get a new, sharp-cutting surface. This style extends the life of the blades compared to conventional two-sided knives.
It's Time To Get A New Blade For Your Utility Knife!
It's time to get ready for your next project with only the best quality blades in the market! At Fix & Feed, you can find Utility Blades IRWIN Bi-Metal3/4-in Utility Razor Blade. Each pack has 5 utility blades that can be safely cut through materials such as cardboard, sandpaper, styrofoam, and much more.
The spring steel body of the IRWIN Bi-Metal3/4-in Utility Razor Blade delivers superior flexibility and prevents breaking under normal working conditions. As your go-to hardware store, Fix & Feed provides you only with the highest quality brands and products and competitive prices to complete every single one of your projects.