All You Need To Know About Hydraulic Fluid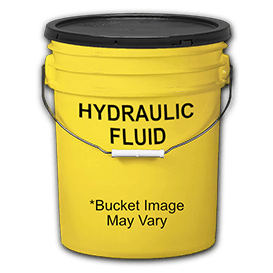 Hydraulic fluids are one of the main components of hydraulic systems. It's what transfers the power from the pump to various parts of the hydraulic system. Hydraulic oil also lubricates the system while working as a heat-transfer medium and preventing wear and corrosion. 
Hydraulic fluids get in contact with basically every part of the system, so it's very important to understand what type of hydraulic fluid your particular system needs because a non-compatible oil might greatly damage the hydraulic system.
Up next, we'll go over all the basic facts about hydraulic oil you must know about to give it proper use!
What Is Hydraulic Fluid
Hydraulic fluid starts with a base oil that's then enriched with additives. This base oil can be mineral oil, vegetable oil, and even synthetic oil. The additives are too many to mention, but they aid the base oil, enhancing particular properties like viscosity, friction, temperature, or pressure. 
Although it's usually used to transfer power, hydraulic fluid can also act as a coolant and lubricant inside machinery and equipment. 
What Is It Used For
Hydraulic fluids are used in a wide variety of applications across many industries. Here are the most common uses:
Forklift trucks

Log splitters

Car lifts

Snow plowing machines

Aircraft

Air tools
Types of Hydraulic Fluid
Hydraulic fluids are categorized into different types depending on the base oil it's using. Here are the three most common types.
Hydraulic Fluids Based on Synthetic Oils
Starting with a synthetic oil base, these types of hydraulic fluids are the most modern ones. They usually have better technical properties than conventional hydraulic oils while also reducing energy consumption.
Hydraulic Fluids Based on Mineral Oils
This is the most common type of oil since mineral oil is the most predominant base. Recently, there's been a shift in the way mineral oils are extracted. More companies rely on the hydrocracking process since it yields a purer oil in terms of sulfur impurities.
Hydraulic Fluids Based on Vegetable Oils
Vegetable hydraulic oil is a type of hydraulic fluid extracted from a wide variety of seeds like sunflower seeds, grapeseed, and even soybeans. These hydraulic fluids have very good environmental properties, but they're not used as much since their technical properties are limited.
Top-Notch Hydraulic Oil At Fix & Feed!
If you're looking for superior hydraulic oil products, our 5-gallon hydraulic fluid will work wonders for all your needs! With its superior resistance to wear and tear, we offer an outstanding product at a price our competitors simply cannot match!
Reach out to us now and get what's best for your machinery at Fix & Feed!