Rats and Mice? Get Rid of Them In Just a Week!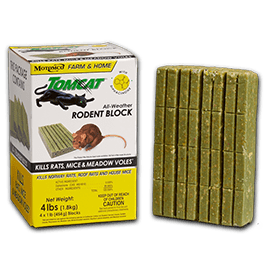 There's no doubt, rats and mice are unwelcome visitors. Whether they're in our yard or inside our homes, they can be an unpleasant nuisance, carry diseases, and pose a health risk to those inside your home. Not to mention, these little critters can be very destructive and cause damage by chewing through walls, insulation, and electrical wiring.
If you're facing a possible rodent infestation, you'll want to reclaim your home and property sooner rather than later, and the only way to do that is to figure out how to get rid of them in the most effective way possible. Please keep reading to learn about our rodent control tips, along with products you can use to get the job done faster. 
How To Get Rid of Rodents 
Whether you have rodents inside or outside the home, you must get rid of them as soon as possible. Here are a few ways you can do it. 
Look For The Source 
If you can find a trail of rodent droppings, you can trace it back to where the rodents may be hiding and coming from. This can give you the chance to block any entry points using caulk or sealants.
Use Natural Deterrent Methods 
When it comes to getting rid of rodents, a few natural household ingredients may be able to do the trick. Placing ingredients like peppermint oil, cayenne pepper, black pepper, and cloves around the home's exterior can prevent rodents from entering inside. Spread the ingredients between the foundation and ground. 
Tomcat Rat Block Bait Stations 
The quickest way to get rid of rodents fast is by using the Tomcat Rodent Block product. Here are some steps you can follow: 
Place bait stations around your property throughout days one through seven (optional)

Monitor the rodent activity to see if they have been eating from it – If there is no activity, add more Tomcat Rat Blocks in a separate station.

Once all rodents have eaten from the bait, empty and refill with new blocks every 30+ days for continuous protection against future mice or rat infestations.
You can find this highly effective rodent deterrent at any one of your local Fix & Feed stores in Texas. 
Fix & Feed, Your Trusted Texas Hardware Store 
If you've found yourself facing a potential rodent problem in your Texas home, look no further than visiting your local Fix & Feed store to find the Tomcat Rat Block Bait station to get rid of your problem once and for all. We pride ourselves on providing our customers with the best service to ensure they don't leave our store empty-handed. 
When you visit us at any one of our four locations in Commerce, Bonham, Sulphur Springs, and Quinlan, you can take advantage of a variety of special in-store promotions, approachable staff, and excellent prices.