The Best Working Farm Boots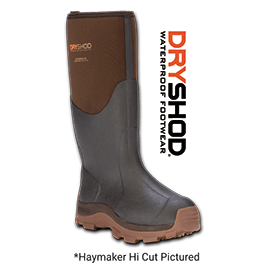 To work on a farm, it is necessary to have the right equipment. One of those items that you need in your arsenal when working on a farm is boots. Many different styles and brands of boots are available for purchase, but not all will be beneficial when working on a farm.
In this blog, we'll be sharing our favorite farm boots and what you need to keep in mind when shopping for a pair. 
What To Look For When Choosing a Pair of Boots
When selecting a pair of boots, especially ones that you'll be using daily at a farm, it's important to look for the following: 
Comfortable fit
When wearing any type of boot around the clock, comfort matters most. Make sure they do not pinch or chafe anywhere while being worn to keep from having blisters or skin irritation later down the road. In addition, make sure there's enough room for thick socks if needed during colder days/nights. 
Waterproofing 
 Although some farms may get more rain than others, it is always a good idea to have waterproof boots. This will help prevent the foot from getting wet and cold while walking around in puddles throughout the day. 
Made of quality materials: 
The last thing you want is for your new boots to break down after just a few uses. Make sure they're made of high-quality material such as leather or rubber so that they can withstand general wear and tear without wearing out quickly or ripping apart at all seams/rivets over time.
Our Favorite Pair 
Some people might not be aware that different types of boots are made for specific purposes. Working farm boots are designed to provide all-day comfort and support while protecting the feet from harsh conditions outdoors, such as rain, snow, or mud. 
A great working farm boot can keep your feet dry on wet days because they do not allow water in through any exposed seams or openings on top or between their layers. Our product recommendation for the perfect pair of boots is the Haymaker Hi Men's Hard-Working Farm Boot. The Haymaker is ideal for messy and rugged outdoor terrains. 
They're made with compression molded non-pigmented gum rubber outsole with a removable molded EVA sock liner, nylon shank, and a comfort range ideal for temperatures as low as minus 20 Fahrenheit to 75 degrees Fahrenheit. You can find these high-quality and comfortable boots at your local Fix & Feed store in Texas. 
Experience The Fix & Feed Difference  
When it comes to convenience and finding everything you need, there's no better place to shop than Fix & Feed. With four locations in Commerce, Sulphur Springs, Bonham, and Quinlan, you can rest assured that our staff will work with you to ensure you have nothing but the best experience. 
When you visit us in-store, you'll get access to special sales, approachable staff, and affordable prices. If you're looking for a pair of high-quality working farm boots, be sure to visit us at Fix & Feed.