Looking For The Best Beef Jerky? Look No Further!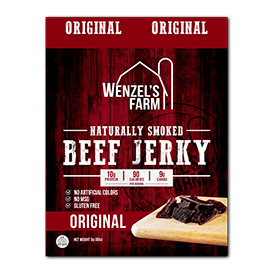 Looking for the best beef jerky? You've found it! Wenzel's Farm Teriyaki Beef Jerky is the perfect choice for anyone who loves to snack on a tasty, protein-packed treat. It has all of the flavors you want and none of the artificial ingredients that other brands use. 
This blog post will teach you about what to look for when buying beef jerky, so be sure to read it before deciding which brand to buy next time!
What Makes Wenzel's Farm Teriyaki Beef Jerky So Good 
Beef jerky is a healthy snack that is easy to carry around and eat on the go. When shopping for beef jerky, it can be hard to know what exactly you should look out for when making your purchase. 
There are many things that make Wenzel's Farm Teriyaki Beef Jerky stand apart from the rest of their competition in this regard: excellent taste, high-quality ingredients, and ease of portion control. 
The flavor profile makes it impossible not to love right off the bat with its delicious teriyaki sauce mixed with hints of ginger and garlic all packed into convenient one-ounce servings which each come individually wrapped so as not to waste any product! 
Unlike other brands, there aren't any added sugars or preservatives, not to mention it's free of MSG, fillers, binders, artificial colors, and it's gluten-free. When you choose Wenzel's Farm Teriyaki Beef Jerky you can rest assured that you're eating 100% beef with three simple ingredients. 
Find Everything You Need at Fix & Feed 
When it comes to finding delicious beef jerky snack options like Wenzel's Farm Teriyaki Beef, you can head over to your local Fix & Feed store in Texas. We are happy to be a chosen one-stop shop for anything and everything you might need – including delicious beef jerky snacks. 
To best serve our clients, we have stores in Commerce, Sulphur Springs, Bonham, and Quinlan. When you visit our store you can rest assured that you'll be receiving only the best customer service with approachable staff, a wide variety of products, and special promotions. 
If you have trouble finding something, our team will work with you to make sure you don't leave our store empty-handed.